For a full list of all archived shows, see the Archives page.
The show was pre-empted this week.
The show this week was two hours of fund raising (we started at 7PM), but did include some technical, computer discussions.
Our two premiums are described on our premiums page. As usual, we offered a Gold Card membership which entitles you to a year of technical support. Ask the guys on the show your questions, bring us your problems or just seek our advice. We also offered a CD with programs on it, programs in both senses of the word. The CD has MP3 recordings of the past year of our show and also 14 highly recommended and totally free software applications.
Pledges to WBAI can be made either on the phone at (212) 209-2950 or at the wbai.org web site
The station gets all the money pledged from the Personal Computer Show. Our premiums (and this web site) cost WBAI nothing. If we don't get pledge support, the show will not continue. In effect, our pledge support is our ratings.
Dave Chan reviewed a small (about 1" by 2") hand-held portable WiFi network finder. It is called WiFi Seeker, is made by Chrysalis and lists for about $30. It can detect 802.11b and 802.11g computer networks. It has LED indicator lights that show the signal strength. The presence of a network does not mean you can get online however. If the network is encrypted, you will need to log on to it. However, the device is smart enough not to be fooled by microwave ovens or baby monitors - other devices that share the same frequencies as WiFi networks. If you set up your own WiFi network in a house, the WiFi Seeker can help you locate dead zones. Take it outside to see how far your WiFi signal spreads.
The WiFi Seeker is also sold by PC Tel which also makes the Segue Roaming Client software which tells you if the hotspot is secure and the signal strength.
The Everest Home Edition 1.0 is similar in concept, but a bit more detailed. This program used to be called Aida32. It also can report on the temperature of your processor (depending on the motherboard in your computer) and speed of the fans. On some computers the fan speed varies with the internal temperature of the computer. You can also set an alarm to warn you if the computer is overheating. It also provides useful network related information.
The CD also includes a White Paper on backing up your computer written by the guys on the show.
Print Screen is a program will actually print the screen, something Windows can not do (the Print Screen key on your keyboard dates back to DOS). It runs in the system tray. Hank suggested using it for printing a receipt when doing online shopping. Joe suggested using it to print error messages that appear on the screen when seeking technical assistance.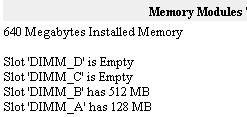 The Belarc Advisor reports on the hardware and software in your computer. It reports this information to you and only to you as a web page. The program itself is fairly small, it will fit on a floppy disk. Crucial recommends this software when you are purchasing additional RAM for a computer. It reports not only the number of memory banks, but also the number of available banks, saving you the hassle of removing the computer cover. An example of this is shown here. Hank mentioned that is also reports the Windows serial number.
Magical Jelly Bean displays information about Microsoft licenses and CD keys. Joe suggests printing the list and keeping it with the computer.
Motherboard monitor is designed to run all the time in the system tray. It reports on the temperature in your computer. Heat is a constant problem for a computers. A computer that runs too hot is doomed to all sorts of problems.
Mozilla consists of three programs, a web browser, an email program and a web page editor. Many people (Michael included) suggest using a web browser other than Internet Explorer for safety reasons. The Mozilla email program includes anti-spam features. Another web browser, Firefox, is built on the same underlying code as the Mozilla browser, but it has a different look and feel.
Atomic is a program that will keep the date and time on your computer accurate.
Ad-aware and Spybot are anti-Spyware programs. They are as necessary on a computer as an anti-virus program, perhaps moreso. You can install them both, they will not step on each others feet.
Avast is a free anti-virus program. You do not need to provide your name or email address. Hank found it to be very user-friendly.
ZoneAlarm is benchmark by which all other firewall programs are measured.
Open Office version 1.1.1 is software that competes with Microsoft Office. It can read and save files in the same format as Word, Excel and PowerPoint. This is too large a download for dial-up modem users.
And more.
During the second hour, there was a lively discussion of outsourcing (a.k.a. off-shoring).
The show was pre-empted this week for WBAI fund raising.
An interesting email came in this week from Doug, a long time listener. He noticed that MSCONFIG showed a program in his startup list called "NewDotNet". This is an adware program and Symantec has instructions on how to remove it (see Adware.NDotNet). The program runs as a Browser Helper Object (BHO), a type of program perfectly suited for Spyware. BHO programs run as part of Internet Explorer and are aware of anything and everything you do while using IE. Joe thought it might have been installed by Real Player. The doxdesk.com web site has a write-up on NetDotNet.
Doug also found a program called bxxs5 in his startup list. This too is a BHO program installed by several MP3 converters and qualifies as Spyware.
Joe recommends Pest Patrol, a commercial program, to delete Spyware, Adware and many other types of malicious software. An excellent free anti-Spyware program is Spybot Search and Destroy. The makers of Pest Patrol, have a free online scan for malicious software at www.pestscan.com.
Michael suggested using a free program called BHOdemon which shows you all the BHOs on your computer and lets you disable (not delete) them. The only downside to BHOdemon is that it sets itself up to run at boot time. There is no need for that and fortunately it is easily undone by removing the shortcut to the program from the Startup folder.
We welcomed Joe back to the studio this week after five months away.
In the News
The US Senate voted to extend a ban on taxes on Internet access for four years. See links below from last weeks show.
There is a new scam on the Internet. The IRS warns that an email going around falsely claims you have been hit with a tax fraud charge. To dispute it, you are told to log on to the scammer's web site and provide all sorts of personal information.
The California Secretary of State has de-certified all touch screen voting systems in the state and has asked the attorney general to consider criminal action against Diebold. This is a result of the flaws that came up when the machines were used during March's elections.
California Secretary of State - Elections & Voter Information - Ad Hoc Touch Screen Task Force Report
The Sasser worm is spreading, attacking Windows computers. It is a worm, which means that a computer can be effected silently and automatically. Unlike most malicious software, you do not have to click on an attachment or a pop-up ad to get infected by the Sasser worm. If you have either a firewall or have kept up to date on Windows bug fixes (patches) via Windows Update, then your computer is protected. The bug fix for this was released on April 13, 2004. Sasser only attacks Windows 2000 and XP.
What You Should Know About the Sasser Worm and Its Variants from Microsoft. Last Updated: May 4, 2004
Sasser Sense The May 6, 2004 issue of the Woody's Windows Watch newsletter
More and more people are signing up for DSL service as opposed to cable for broadband. Not that long ago, cable had a 2-1 subscriber advantage.
Quoting from the www.techsunite.org web site: "The Washington Alliance of Technology Workers launched a Web-based tracker Thursday that displays the mounting number of jobs U.S. companies send overseas. The tracker will include a total of jobs sent offshore by date, and the specific offshoring events related to the company that exported the jobs. The "Offshore Tracker" is a joint effort by WashTech and the Communications Workers of America to account for the number of U.S. job that are outsource offshore. Such information is difficult to determine, since companies are not required to report how many jobs they send to foreign countries. In fact, most of the companies sending jobs to other countries work deliberately keep their activities from becoming known by the public..."
See also Offshoring: The reality behind the politics from CNet's news.com. May 4, 2004. Out of all the vitriol surrounding the offshore-labor question, remarkably few concrete suggestions have emerged to address this controversial trend.
We were joined by Peter Castleton of Verizon to discuss their DSL service. Peter is the broadband maven at Verizon.
DSL is cheaper than a cable modem, Verizon's service is $35 a month or $30 a month if you buy a bundle of Verizon products (Alfred does this). They include MSN Premium 8.0 which has anti-spam, anti-virus, a firewall and more. This software however, runs on your computer, not theirs. Use of the MSN software is optional, Joe is a Verizon DSL customer and he does not use it.
Joe asked why there are no server side filters at Verizon to protect their customers from worms and viruses. Pete said they have been looking into doing this for a while, but it is not currently available.
Verizon has about 2.7 million DSL customers and about 10 million phone lines capable of carrying the DSL service. They add over 300,000 customers per quarter.
Joe reported that 93% of his email was SPAM. The legitimate 7% is 50 messages a day. He refuses (as should all of us) to purchase any product that is advertised via SPAM. Verizon runs a server side SPAM filter, but Joe has found it be not very effective. Peter felt that anti-spam protection belongs on the client side (your computer).
Verizon is doubling the speed of their DSL service, from 1.5 Mbps to 3 Mbps sometime this summer. Not all that long ago, they doubled the speed from 784 Kbps to 1.5 Mbps. Prices for the faster service have not yet been announced. Alfred noted that everyone can't get the fastest speeds due to limitations in the length of supported copper phone lines.
Peter also said that Verizon is currently tripling their upload speed, going from 128 Kbps to 384 Kbps. "Upload" is when data is sent away from your computer such as when you send an email message). Upload speed is also known as "upstream" speed. This speed increase is free. To put this in perspective
In 1998 Verizon DSL was 640 Kbps downstream and 90 Kbps upstream for $60 a month
In 2001 Verizon offered 768 Kbps downstream and 128 Kbps upstream for $50 a month
In 2003 Verizon offered 1.5 Mbps downstream and 128 Kbps upstream for $35 a month
In 2004 the upstream speed is going from 128 Kbps to 384 Kbps with no increase in cost
Expected around July 2004 is an increase to 3 Mbps downstream and 768 upstream with an increase in cost that is still to be determined
In comparison, a 56K dial-up modem runs at about 50 Kbps downstream (if you are lucky) and 33 Kbps upstream
Verizon is planning to add one million homes with direct fiber optic connections this year. Fiber is much faster than DSL.
Many Verizon payphones in Manhattan have a wireless WiFi connection for use by their customers.
The Verizon Broadband Anytime web site
After much trouble with her Verizon DSL service, Linda was told by a tech support person that the problem was related to a USB connection used for her network on her Windows 98 machine. Peter Castleton said that a USB network connection should work fine on Windows 98.
Bob was afraid he had Spyware on his computer because the amount of data it was sending out seemed too high. Hank and Michael suggest that he first try www.pestscan.com to run a free online Spyware check. If it finds nothing but cookies, all is well. This scan does not remove Spyware however for that you can either buy their product, Pest Patrol or see our Links and Downloads page for information on two free anti-Spyware programs or follow the manual removal instruction provided on the pestscan.com web site.
A number of unhappy Verizon DSL customers called with assorted complaints.
Joe suggested looking at dslstart.verizon.net a web page for Verizon DSL customers.